From menopause to emotional upheavals to contemplating mortality, Tracy Franz recommends new books to help us navigate life's changes.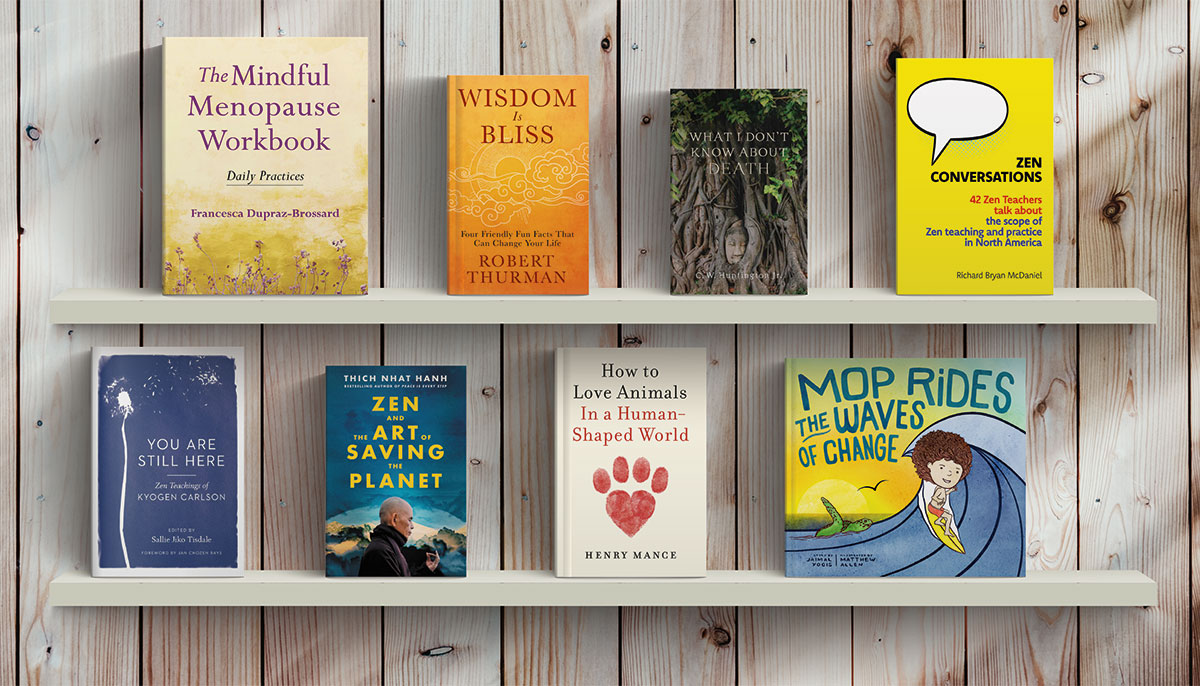 Aging, and the changes that come with it, are a natural part of life's journey—and they bring challenges. Psychologist Francesca Dupraz-Brossard's The Mindful Menopause Workbook: Daily Practices (Wisdom) is a resource for exploration, growth, and discovery for women entering or going through menopause. The bulk of this workbook is a year's worth of thoughtfully composed daily journal prompts—and space to write—on topics ranging from mood issues, to weight gain and tiredness, to hot flashes and sexuality.
Many of the prompts point to the two supporting sections of the book: one focusing on relevant mindfulness meditations and the other on yoga poses. Women entering the second half of life will find this book a valuable resource for bringing mindfulness and joy to their experience of change.
"A really happy person is one who feels real streamings of bliss and satisfaction in their body and mind, and automatically wants to share that with others," writes Buddhist scholar and leader Robert Thurman in his new book, Wisdom Is Bliss: Four Friendly Fun Facts That Can Change Your Life (Hay House). Drawing on his own experience as a seeker, Thurman presents accessible, in-depth teaching on the four noble truths and the eightfold path—the essential "curriculum" that the Buddha originally offered to his adherents. Chapters are organized according to this curriculum, moving from science to ethics to mental practices. "Welcome to the path," he writes. "I hope you are pleasantly surprised by just how real and applicable these teachings can be."
The late Buddhist scholar and novelist C. W. "Sandy" Huntington Jr. was diagnosed with terminal cancer in the winter of 2020. What I Don't Know About Death: Reflections on Buddhism and Mortality (Wisdom Publications) is a collection of profound and deeply moving essays from his final months. "I am dying," writes Huntington, "and what I don't know about death has become a metaphor for what I don't know about life. As I'm compelled to give myself over to this darkness of unknowing, I'm finding a new and deepened understanding about what it means to come to terms with what I've been given—with what Buddhism calls the 'suchness' (tathata) of things." Drawing on scholarly and creative works as well as personal experience, Huntington's writings are a powerful and illuminating meditation on our brief human existence.
Three new books on Zen are out this season. Zen Conversations: The Scope of Zen Teaching and Practice in North America (Sumeru Press), by Richard Bryan McDaniel, offers in-depth conversations with forty-two Western Zen teachers. The interviews reveal both shared and differing Buddhist backgrounds and experiences, but all point to a central cohesive theme of Zen as a path of unflinching honesty. Each chapter focuses on a compelling topic: practice and intention, meditation, adherence to tradition, social and environmental activism, and how each teacher came to Zen.
You Are Still Here: Zen Teachings of Kyogen Carlson (Shambhala), edited by Sallie Jiko Tisdale, is a collection of talks given over several decades by Dharma Rain Zen Center cofounder Kyogen Carlson (1948–2014). As he illuminates the heart of Zen practice in these beautifully edited selections, Carlson reveals his humor, humility, and unwavering dedication to the path. He once told his dharma heir Tisdale, "There's so much to learn and so much to know. It's good to keep moving forward. And yet whatever we have is, in a very profound way, absolutely complete and always enough." Many topics within this volume are organized according to Dharma Rain's liturgical calendar, with themes that arise through the seasons around traditional Buddhist holidays and practice periods. Some selections include question-and-answer sessions between Carlson and his students.
Thich Nhat Hanh's Zen and the Art of Saving the Planet (HarperOne) presents a comprehensive Buddhist approach to environmental activism. The book begins with his teaching on the radical insight of the Diamond Sutra, which is meant to "cut through" delusion to realize ultimate reality. This is followed by a series of teachings on "the action dimension"—ways in which we can embody mindfulness in our daily being. The final selections focus on seeing and being together in communities of resistance. Sangha, he says, is essential: "To succeed on our path, we have to take refuge in a community." Throughout the book, insightful commentary by Sister True Dedication—Thich Nhat Hahn's student and the editor for this volume—provides additional reflections, stories, and observations of life with him in Plum Village Monastery.
"What would happen if we thought about animals—all animals? Would we change the way we source our food, the way we treat the natural world, and the way we look at animals in zoos?" asks journalist Henry Mance in the introductory pages of his new book How to Love Animals in a Human-Shaped World (Viking). Mance aims to deliver an argument that he says combines the sometimes at-odds values of animal ethics and environmentalism. Early chapters examine the evolution of human attitudes toward animals and the various ways in which humans justify their destruction; this is juxtaposed in the second half with the ways in which humans show their love of animals. The closing chapter offers pragmatic suggestions for "how we, as individuals and as societies, can build a world that is better not just for us but for other sentient beings."
Learning to manage strong emotions can be challenging—especially for children. In Jaimal Yogis's Mop Rides the Waves of Change (Parallax), the second installment in this charming picture book series, the mop-haired surfer dude joins his bandmate friends, Ipo and Sammy of the Coconut Heads, as they ride real and metaphorical waves. Mop gets angry at school when he's told it's time to clean up after ukulele practice, and then again later, on the beach, when he encounters people littering and endangering wildlife. His Uncle Kimo reminds him of how to more skillfully ride these stormy seas. Once Mop returns to still waters, he discovers how to bring that equanimity to addressing problems in appropriate, meaningful ways. Parents may find this book a helpful tool for starting conversations. My daughter read it and said, "I learned how to find my calm when I'm angry and think of solutions instead of getting mad."
THANK YOU FOR READING LION'S ROAR. CAN WE ASK FOR YOUR HELP?
At Lion's Roar, our mission is to communicate Buddhist wisdom in today's world. The connections we share with you — our readers — are what drive us to fulfill this mission.

Today, we're asking you to make a further connection with Lion's Roar. Can you help us with a donation today?
As an independent nonprofit committed to sharing Buddhist wisdom in all its diversity and breadth, Lion's Roar depends on the support of readers like you. If you have felt the benefit of Buddhist practice and wisdom in your own life, please support our work so that many others can benefit, too.

Please donate today — your support makes all the difference.

Lion's Roar is a registered charity in the US and Canada. All US & Canadian donations are tax deductible to the full extent allowed by law.